Ground breaking: Do not give up on Apple iPhones and iPod MP3 Players
Press Release: www.BuyMyBrokeniPod.com and www.BuyMyBrokeniPhone.com opens for business to buy broken, used and damaged Apple iPhones and iPod MP3 Players
Release Date: 4 September 2007
DENVER –www.BuyMyBrokeniPod.com and www.BuyMyBrokeniPhone.com has opened for business. This ground-breaking website and company will buy broken, damaged, or used Apple iPhones, Apple Video, Photo, Nano and Mini iPod MP3 Players through an instant price quote and simple shipping instructions. www.BuyMyBrokeniPod.com and www.BuyMyBrokeniPhone.com have opened a website for those who want money for unused or broken iPods and iPhones.
According to BuyMyBrokeniPod.com's President/CEO Brett Mosley, broken and used iPods and iPhones are filling up landfills and going unused when there is an incredible market for them after their typical lifespan and/or use. "We just wanted to simplify the process of people getting money in exchange for broken, damaged, sad faced, cracked screen, broken port, and water damaged iPods or iPhones," he explains.
"There are a few other competitors out there but we feel our site offers the best prices, simplest use and friendliest customer service."
Mosley says of their business philosophy, "We've all experienced the inconvenience and sheer frustration of having a broken or unused iPod or iPhone, most of the time people just toss them or attempt to get them repaired, but we are offering a new and exciting option: simple money."
"Some people aren't even sure whether or not they can sell their iPods or iPhones and don't know what to do with them if they can. It's a difficult process with few options, especially if you have little time and need to sell your iPod or iPhone quickly and easily. That's the greatest advantage of the internet and our website, its convenience. Once a customer views the website and follows the three easy steps to sell their iPod or iPhone, they will get money within 24 hours of receipt through paypal or by check if they prefer."
Mosley says the internet is littered with bad websites, resulting in people giving up and dumping or shelving their old or unused iPods or iPhones.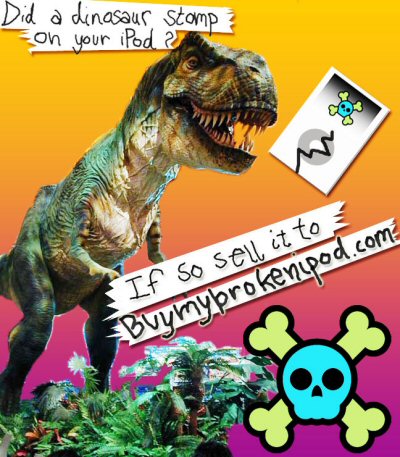 www.BuyMyBrokeniPod.com has estimated the company could keep hundreds of pounds of waste out of our landfills in the first year of business, and thousands of pounds of waste in the first three years of operation. "We feel that www.BuyMyBrokeniPod.com is more than just a viable business, its actually helping people and the environment. I guess you can call us a green business."
The bottom line: "Make some cash, make it easy and help keep our planet greener"
www.BuyMyBrokeniPod.com and www.BuyMyBrokeniPhone.com buys used and damaged Apple iPhones and iPod MP3 Players in the United States and internationally
For further information:
Brett Mosley
www.buymybrokenipod.com President / CEO
Email: Brett@buymybrokenipod.com