Sony Ericsson W660i: My personal hands on review & photos
Loads of photos below – I would love to know your thoughts on what is the best the Sony Ericsson W880i or the W660i? I looked on the net trying to choose a mobile phone that would suit me of which took a while choosing, ok yes I do own Phones review and should have the best mobile phone and all that but that is not the case for me. Yes I do know a lot about mobile phones and do know what is good for me; I have had many phones like the Nokia N95 which for me on a personal note is too big so took it back after a week.
Seeing as I have got an internet tablet which is the Nokia N800 which means I can get on the internet anytime anywhere I did not need a mobile phone that is the best for internet browsing, anyway the two phones I decided on were the Sony Ericsson W880i and the Sony Ericsson W660i, I went to the shops and went into Vodafone, Orange, O2 and Three and of which in the end decided Three was the best for me.
I have always been an Orange customer and thought stuff it I will try the Three (3) network and see if they are any good, to tell you the truth Three used to be and to put it bluntly CRAP for getting a signal but they seem to have upped their game and do not seem to have much trouble in the area that I am in.
Moving forward I went into the shop and picked up the Sony Ericsson W880i and the Sony Ericsson W660i and holding both phones in my hand side by side must admit the W880i seemed to be the better looking phone, nice, sleek and pretty damn sexy. I asked the Three salesman if I could use his phone which was the W880i and used it to text, to my dismay and ok it is a nice looking phone but and a big but if you are a avid texter then the W880i is NOT a great choice. Because the keys are pretty small and thin every time you want to hit one key you seem to hit another, this is where I made my mind up and went for the Sony Ericsson W660i.
I got my phone on contract which is an 18 month contract for £20 a month of which I get 500 minutes and 100 texts a month which is ample for me, seeing as I work from home I use my home phone most of the time but I do need a mobile phone for when I am at mobile phone and marketing events and meetings.
In the Box —
1. Sony Ericsson W660i
2. 512 MB M2 Card
3. Battery 950mAh
4. Personal Stereo Hands free kit
5. Battery cover
6. USB cable
7. Charger
8. CD—ROM (including PC synchronization software, Disc to Phone)
9. Sony Ericsson Quick start guide / Walkman Guide
10. Sony Ericsson User guide
11. 3 Get going guide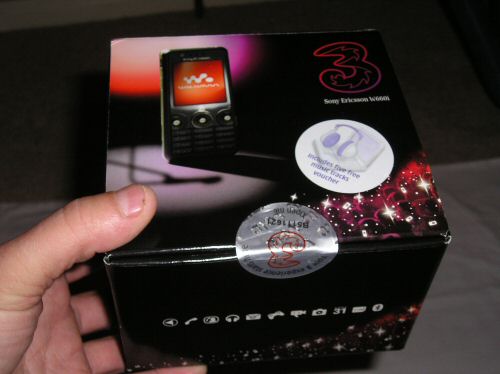 Deal Summary —
1. FREE Sony Ericsson W660i Black on £20 Talker
2. £20.00 a month
3. 500 anytime any network minutes
4. 100 texts
5. 18 month contract
Main Specs —
1. Track ID service (for recognizing music when you don't)
2. 512MB memory card included (expandable) can store more than 470 tracks
3. 2 Inch high quality screen
4. Walkman® music player
5. 2 megapixel camera
6. Stereo Bluetooth
7. and so much more — Visit Three.co.uk
I love this mobile phone and have no trouble whatsoever since I have had it, only downside I had which is not a major deal, when you get home you want to get the phone out and use it, but in some cases like mine I had to wait 36 hours before the phone and contract was activated. It does state this on your invoice (can take up to 72 hours is what it says).
All in all this is a great mobile phone and would recommend the Sony Ericsson W660i, you can choose between black and red, the Walkman part of this phone is stunning especially when you put the headphones that comes with it in. On the 512MB card I got with it I have successfully stored 411 songs with a little room left (wicked). Apparently the phone normally costs £188 but you obviously get it free with this contract.
If you wish to get this phone then you should hurry because on this set up this offer is only available until 30th September 2007.
You can either visit Three or use the links below for other stores. Have fun. Please do post all your comments about the Sony Ericsson W660i below if you have one and let me and our readers know what you think. Thanks again. Sony Ericsson Personal Pictures below –