Phones Review will be attending the Stuff Show 2007: What Hi-Fi Sound & Vision
Phones Review is starting to get a name for itself now and we are trying to attend as many events as possible, we would never want to miss the Stuff Show 2007: What Hi-Fi Sound & Vision Event which we will be attending on Friday 2nd November 2007. This show will probably be one of our favourites and would not miss it for the world, we would like to say thank you in advance to those who sent us complimentary tickets and wish you all the best when this event opens.
We here at Phones Review must tell you about this Stuff Show 2007 and what will be the main attractions there, we want many of you to attend this as possible because we feel that it will be a fantastic few days that should not be missed.
The Market leading magazines Stuff and What Hi-Fi Sound & Vision are bringing their annual gadget show to the Novotel Hotel in Hammersmith, London for an amazing 3 days which are the 2nd, 3rd and 4th November 2007 so please DO NOT forget to put this in your diary or calendar because you would be mad to miss this one trust us.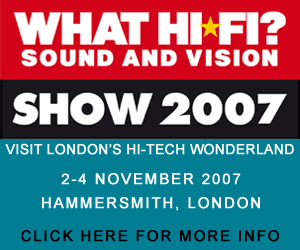 The Stuff Show 2007 will be bringing you all the latest in hi-tech gadgets and gizmos, it is also the UK's best and one and only gadget show event, all visitors including us here at Phones Review will get the chance to see all the hottest and must have gadgets and the place we will make our way to first at the show is the Apple iPhone which will be a main attraction there. There will be the World's Biggest Plasma TV which is the Panasonic 103 inch wide screen TV weighing a staggering 220kg and worth £50,000.
There will be the all new Nokia N810 Internet tablet, Canon's new 'touch and try' area giving visitors the chance to try out their kit in a live photoshoot, Picturehouse's new innovative mystic black marble, fully working fireplace with it's hidden plasma TV and the ultimate thing for all you gamers and car fans will be the famous Koenigsegg cars head-to-head on the big screen of which you will see the real life model which is worth £750,000.
If you want to ask questions in where you will get all the answers then why not make your way to the Stuff Gadget Doctors who will be there at hand, they will also be giving you live demos. We must say that another cool addition to this event has to be where you can get the chance to help the environment by exchanging old unused mobile phones in return for cash, all you need to do is bring your discarded mobile phone to the show and have it recycled and you will receive a cheque from £1 to £150. Find out more here.
The What Hi-Fi Sound & Vision have so much going on it would take me ages to list everything, but we do know that they are giving away £20,000 worth of gadgets including a complete home entertainment system worth £8,000.
What not to miss at this years shows of all shows —
1. Apple iPhone showcase and demonstrations (LINK)
2. The World's Biggest Plasma TV – 103 inches wide, weighing 220kg and worth £50,000. (LINK)
3. The Dutch hot tub a unique new concept in outside bathing www.dutchtub.com .
4. Mega X-Box Games racing Koenigsegg cars head to head in high-def on two huge 4m screens.
5. Denon's stunning new lifestyle network centric products and £10,000 Home Cinema system.
6. LG's freeview Playback TVs, the LT75 LCD series and PT85 Plasma Series – High Definition with Twin Digital Tuners.
7. SIM2 – the world's smallest, lightest (1080p) High Definition, three-chip DLP projector.
8. Boston Acoustic's high performance speakers for use in Hi-fi and Home Cinema.
9. Retro Gaming Feature: taking you back to the early days of gaming!
If you want to go to the Stuff Show 2007: What Hi-Fi Sound & Vision which is a must and you are crazy not too, the tickets will cost you £13 if you book in advance or £15 at the door — For more info on the tickets please DO visit HERE.
PS: Hope to see you all there from us here at Phones Review