The T Phone helps those with bad vision: One for the Elderly maybe
Now picture this, you are say for example elderly like a grandparent or maybe anyone with bad vision and you wish to make a phone call but cannot see the numbers on the phone properly so what do you do, well what you do is shout out for the all new T Phone (T-Phone).
I love the picture below which clearly shows "This is what your grandmother sees; She can hardly read and remember telephone numbers. Even though there are just a few people who she wants to make a call, it's still difficult for her. I want to make her feel comfortable.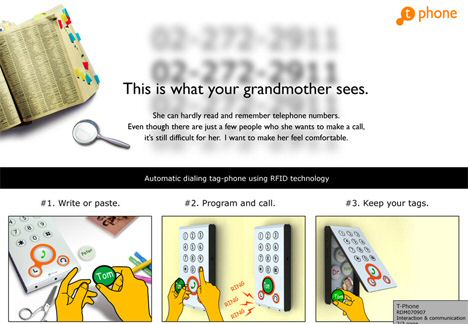 The way the T Phone works is that of an automatic dialing tag-phone which uses RFID technology, 1 write or paste, 2 program and call and 3 keep your tags.
I must admit I have been asked to dial a number for an elderly person a few times because they could not see the numbers that well and this phone really should be out on the market, the phone is simple to use and in basic terms when the person wishes to make a phone call, all they need to do is put the badge on the call button and press it, the phone will then read the RFID information in the badge and dials the number.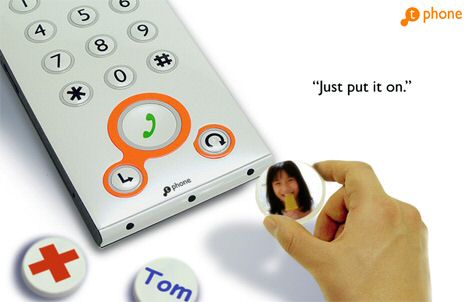 Do you think this concept should become reality?
Source – Designer: Jeong-Kyun Nam