Big Button 100 phone from BT at a great price.
The ideal phone for those with impaired vision is the BT big button 100, a corded phone with large buttons in black on a white case, and has hands-free and also adjustable speech amplification for the hard of hearing. Also with an easy-grip handset. 
This superb phone can be found at Argos for an incredible price of £24.94, and can be delivered in 2 working days subject to stock.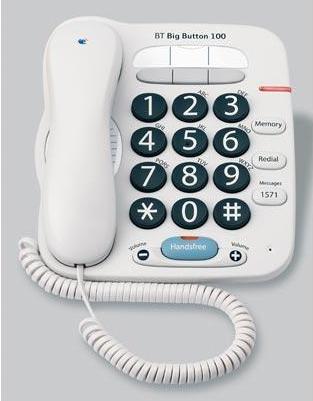 ·         Analogue corded telephone.
·         10 number memory.
·         3 one touch memory buttons.
·         Hearing aid compatible.
·         Call indicator light.
·         Choice of 3 ring tones.
·         Adjustable ringer volume control.
For further information and to purchase please click here
Subscribe to the Phones Review Newsletter (free) for email updates and news, just enter your email CLICK HERE