Free Bebo on your mobile phone with Orange: What is BEBO Mobile?
We love a new kid on the block when it comes to something new for your mobile phone and this is where big boys Bebo come out and play. The all brand NEW Bebo mobile which will let you access your Bebo account via your mobile phone which helps you stay in touch with your friends and family on the go.
The new Bebo Mobile will allow you to receive and reply to text alerts for new profile comments plus you can receive Bebo mail and sayings from your friends. You can upload mobile photos straight to your profile via MMS messaging which is FREE for one month the will cost 15p per photo.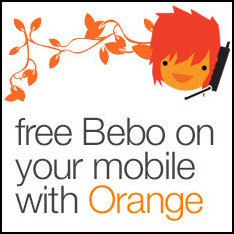 You can post your profile comments plus mail messages and sayings via text messages plus you can also browse a mobile version of the Bebo website via bebo.com.
Try it free, for a month. Then, if you decide to keep it going its only £3 for a month — For more in depth information please visit bebo.com