BT Verve 500 DECT Quad phone with Answer Machine
If you're looking for a combination set of phones then the BT Verve 500 DECT quad set is ideal for your needs. This set of four phones with one main base unit has an answer machine, hands-free speakerphone, up to 12 hours talk-time, and 120 hours standby time.
The BT Verve 500 DCET Quad phone system can be bought from Argos for £159.99 or when using your Argos card you can pay nothing for 6 months, typical 27.9% APR variable. This item can usually be delivered within 2 working days, or can be reserved for store pick up subject to stock availability.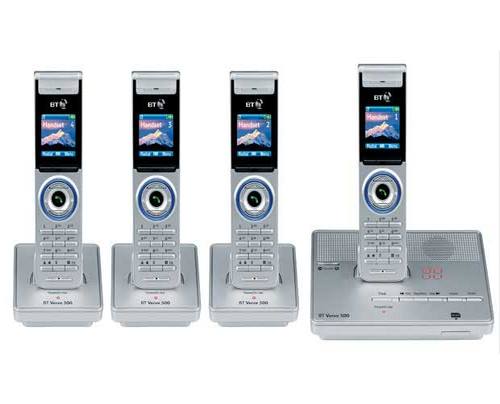 · 255 name and number memory.
· 20 last number redial.
· 30 call log.
· Secrecy button.
· 1.5in colour LCD display.
· SMS text facility.
· 10 ringtones – 2 polyphonic, 8 monophonic.
· SIM card reader.
· Remote access from any touch tone phone.
· Alarm.
· Call transfer.
· Incoming ring personalisation.
· Call timer.
· 1.5in 4k, 6 line colour display.
· Clock.
· Call waiting.
· Keypad lock.
· Message playback from base and handset.
· Ringer volume control from base and handset.
· Message counter.
· 5 wall papers.
· Up to 300 metre outdoor range in ideal conditions.
For further information and to purchase please click here
Subscribe to the Phones Review Newsletter (free) for email updates and news, just enter your email CLICK HERE