Samsung M4650 enters the touchscreen world: Does it resemble the Apple iPhone
Samsung are not shy coming forward when it comes too single touchscreen enabled devices which are on the market but it is indeed their brand new model that seems to be the most talked about at the moment that really does resemble the iPhone.
Ok their idea is pretty plain and simple and they really do want to produce the iPhone like mobile phone in Korea before giants Apple do. Now I guess you want to know what the bloody hell we are going on about do you not.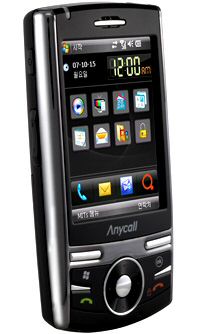 We are talking about the brand new coming soon Samsung M4650 which is indeed the upcoming multi-touch phone which will be hitting Samsung's domestic market via LG Telecom.
Yes the phone will be smaller than the Apple iPhone but will boast a 2.8 inch LCD display with cool haptic feedback; it will also feature the T-DMB receiver for watching mobile TV and will be running on 624MHz PXA300 CPU and Windows Mobile 6.
Source — The Korean Times
Subscribe to the Phones Review Newsletter (free) for email updates and news, just enter your email CLICK HERE