Nokia have new S60 Touch theme for 3rd Edition mobile phones: From Facebook
According to Symbian Guru they got a message from Facebook saying that site S60.com have updated their info regarding the brand new Touch UI which as I personally know because Phones Review was there was announced at the Symbian Smartphone Show 2007.
Nokia have copied self, crafts S60 Touch theme for 3rd Edition phones which is all good and even thou we are least another 6 months away before we see any real S60 Touch based devices from Nokia or even its software partners on store shelves, Nokia love to make it easier for us all and it seems that they have fooled us into believing we are living on the bleeding edge of Espoo tech.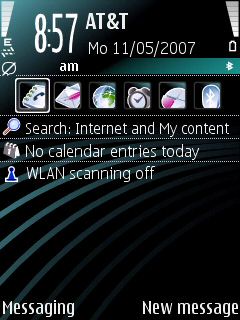 The brand new Touch inspired theme for S60 3rd Edition handsets in now available and ready too use, we say this is very good indeed but should we wait for the real thing. What do you all think?
Source — Symbian Guru