BlackBerry Pearl 8120 launches with O2 UK: Available NOW
O2 are the kings at the moment with their release of the Apple iPhone and now they are stepping up to the mark again with their new launch of the BlackBerry Pearl 8120 which is now available. They want to appeal to a wider audience and damn they are doing just that. Below we have the press release from O2 so please read this carefully as there is some really interested reading to be done.
They have included the RIM's BlackBerry Pearl 8120 with WiFi and not GPS but hey who cares about that it is a cool smartphone, the Blackberry Pearl 8120 features a 2 megapixel camera plus 3.5 mm headphone jack, microSD slot, RIM's push-email service which is the nuts and so much more. Below we have also added a link so you can go straight to O2 UK to find out even more.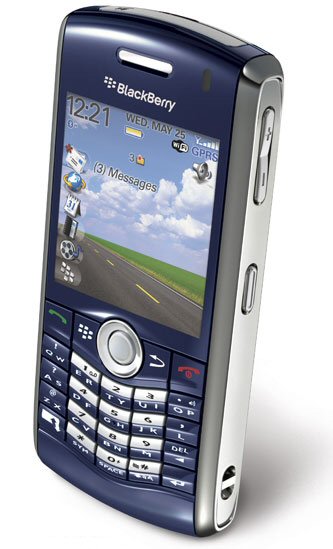 PRESS RELEASE – O2, a leading provider of mobile services to UK consumers and businesses, and Research In Motion (RIM), a global leader in wireless innovation, today introduced the new BlackBerry Pearl 8120 smartphone in the UK. In its small, stylish and elegant design, the BlackBerry Pearl 8120 provides rich multimedia features together with all the popular functionality users have come to expect from the BlackBerry wireless solution.
The BlackBerry Pearl 8120 comes complete with a 2 megapixel digital camera with a 5x zoom and video capture capability, an externally accessible microSD/SDHC slot and Wi-Fi connectivity support. These new features, along with an enhanced visual interface, add to the renowned BlackBerry smartphone experience for email, phone, messaging (SMS, IM, and MMS), web browsing, multimedia, organiser and other mobile applications. Sleek and Stylish With a New Blue Finish Available in a sleek blue finish, the BlackBerry Pearl 8120 smartphone from O2 maintains its ultra-stylish design, measuring only 107mm x 55mm x 14mm and weighing approximately 91g.
Easy-To-Use
The BlackBerry Pearl 8120 provides an exceptional user experience through its trackball navigation system and RIM's popular SureType keyboard system. SureType – which allows a narrower handset design while maintaining easy phone dialing and message typing – has been enhanced to allow word completion, easier editing of misspelled words and a built-in spell checker.
Connectivity Options
In addition to quad-band GSM/GPRS/EDGE support, O2 customers can also enjoy the BlackBerry Pearl 8120 with faster web browsing and expanded wireless data coverage via Wi-Fi (802.11 b/g) networks. To meet various security requirements for users accessing a Wi-Fi connection, the BlackBerry Pearl 8120 is compliant with Wi-Fi security protocols including WEP (Wireless Equivalency Protocol), WPA (Wi-Fi Protected Access) and WPA2.
Multimedia To Go
The BlackBerry Pearl 8120 comes with a 2 megapixel camera with 5x digital zoom and enhanced flash. The camera also supports video capture in two resolutions: 240×180 or 176×144 for sharing via MMS.
The media player now allows users to create and edit play lists right on the handset. Alternatively, users can manage their media files from their PC with the Roxio Media Manager for BlackBerry, which is included with the BlackBerry Desktop Manager software. The Roxio software was developed with Sonic and is based on the award-winning Roxio Easy Media Creator 9, making it easy for users to search for media files on their computer, view and organise them, create MP3 music files from CDs, create play lists, add audio tags and album art, and convert files for optimal playback.
Roxio Photosuite 9 LE is also included — this comprehensive tool makes it easy to create photo albums and edit pictures. Pictures can also be cropped, rotated and straightened, redeye can be removed, and brightness, contrast and saturation levels can all be changed.
The BlackBerry Pearl 8120 supports the Bluetooth stereo audio profile (A2DP/AVRCP), and comes with a standard 3.5 mm stereo headset jack so that users can plug in their preferred headphones or speakers. The handset also provides the convenience of an externally accessible microSD/SDHC memory card slot for additional storage of music, videos and pictures.
The BlackBerry Pearl 8120 also supports high-speed USB for transferring files between the handset and a PC at data throughput rates of up to 10MB/sec.
Enhanced User Interface
The BlackBerry Pearl 8120 features an enhanced visual interface that integrates a new font rendering technology which displays characters beautifully, with greater legibility at even the smallest point sizes. The new technology is evident throughout the visual interface, complementing the new look of the BlackBerry email client, calendar, address book, task list, memo pad and web browser, while also enhancing other applications.
The BlackBerry Browser is further improved with a new "Page View" option that displays a full web page on the screen along with a magnifying glass that allows the user to quickly and accurately point and zoom on a specific area of the web page. Users can also press and hold the trackball to toggle between the "Column View" (which presents the web page in a continuous column for easy reading and scrolling on the go) and the "Page View."
Advanced Phone Features
The BlackBerry Pearl 8120 offers many convenient phone features including Speaker Independent Voice Recognition (SIVR) for Voice Activated Dialling (VAD), Bluetooth 2.0 support for hands-free use with headsets, car kits and Bluetooth peripherals, dedicated 'send', 'end', and 'mute' keys, smart dialing, speed dialling, conference calling, call forwarding, a low-distortion speakerphone for hands-free conversations and support for polyphonic, mp3 and MIDI ring tones.
The smartphone also includes new features that improve phone audio quality including enhanced background noise, wind and echo cancellation for better performance in loud environments such as airports, restaurants or busy downtown streets. An 'enhance call audio' feature also allows the user to boost the phone audio's bass or treble while on a call.
Broad Email Support
The BlackBerry Pearl 8120 is supported on BlackBerry Internet Service, giving users access to up to 10 supported work or personal email accounts (including most popular ISP email accounts), as well as BlackBerry Enterprise Server, enabling advanced security and IT administration within IBM Lotus Domino, Microsoft Exchange and Novell GroupWise environments.
Availability
The BlackBerry Pearl 8120 smartphone is available from O2 UK at a range of prices subject to tariff right now.
For additional information, please visit: O2 UK site Now