Sidekick Slide now available for $199 but would you prefer the LX?
Without a doubt the most sought-after Sidekick on the market was the Sidekick LX, however, now things have sharpened up a little with the Sidekick Slide becoming available. This Motorola sourced slide has hit T-Mobile's website and in stores for a cool $199.
But now, would you prefer the recently launched LX from Sharp, and although costing $299 the LX still manages to hold onto the crown of specification. This is due mostly to the LX's larger, crisp widescreen display. The Sidekick Slide however is more compact in design with a unique slide up screen, the first in the Sidekick franchise.
The Sidekick Slide features a full QWERTY keyboard, 1.3mp camera, and one-touch instant messaging. So really it's up to you to decide, pop along to your local store and try them out, but we're guessing the Sidekick Slide may be your choice.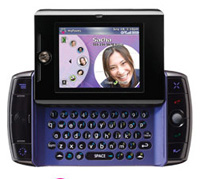 Source — T-Mobile
Subscribe to the Phones Review Newsletter (free) for email updates and news, just enter your email CLICK HERE