Samsung J750 3G enabled phone is shipping.
The SGH-J750 no frills mobile phone is shipping now, but what is unsurprising is that this lower-end mobile phone's standout feature is the 3G enabling Broadcom BCM59001 PMU SoC inside. Now the SGH-J750 wouldn't be at the low-end without the average 220 x 176 resolution display, and low 8MB of internal memory , and furthermore a lack of WiFi. However there are a few up points such as tri-band GSM connectivity, Bluetooth 2.0 with A2DP, USB 2.0, 1.3 megapixel camera, microSD slot, integrated music player, and 3 hours talk-time and 300 hours standby time.
As yet price and availability of the Samsung SGH-J750 is unavailable, but you'll probably see it sneaking into shops in the near future.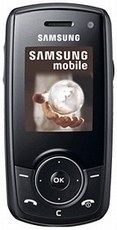 Source — engadget mobile
Subscribe to the Phones Review Newsletter (free) for email updates and news, just enter your email CLICK HERE