BT Reveal Single phone with Answer Machine
Looking for a stylish looking phone then look no further than the BT Reveal, a single digital cordless phone with an answer machine. The BT Reveal comes in black and has a clock readout on the handset; while the answer machine also has a digital clock and blue down-light. An ideal phone that will look at home anywhere in your house.
Some of the features to the BT Reveal are, up to 10 hours talk-time, up to 100 hours standby time, 50 call log, caller ID, 10 polyphonic and 5 monophonic ringtones, and many more.
You can buy the BT Reveal from Argos at a reduced price of £79.99, this bringing you a great saving of £50.00 on the original selling price of £129.99. Alternatively pay nothing for 6 months when buying with an Argos card; Typical 27.9% APR variable.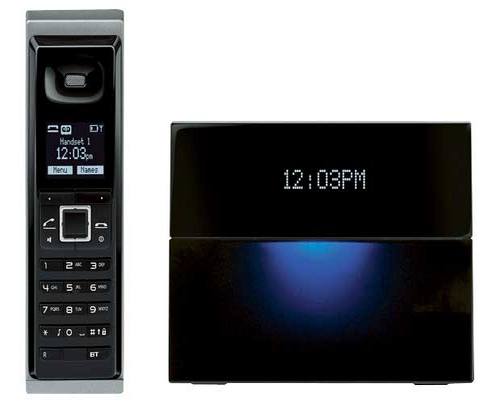 ·         Remote access from any touchtone telephone.
·         Message playback from handset.
·         Up to 20 minutes recording time.
·         Handsfree/speakerphone.
·         SMS text facility.
·         SIM card reader.
·         SIM card writer.
·         Call timer.
·         4 line inverted black/white handset display.
·         Single line inverted black/white CLI display on back of handset.
·         Secrecy button.
·         Clock.
·         Alarm.
·         Keypad lock.
·         Blue downlight on base to highlight new call, SMS or answer machine message.
·         Requires 2 x AAA rechargeable batteries (supplied).  
To take advantage of this great saving please click here
Subscribe to the Phones Review Newsletter (free) for email updates and news, just enter your email CLICK HERE