Sony Ericsson W580 Metro Pink on Texter 3 750 mins plus unlimited txt
The W580 is the latest mobile from Sony Ericsson, a stylish and fashionable mobile, which is now available in Metro Pink, along with Style White and Urban Grey, all with anodized etchings on the underside. The W580 comes with a 512 memory stick micro (M2) card allowing loads of storage. It also has Sony's in-built Walkman2.0 music player, along with TrackID music recognition.
The superb W580 also offer a 2.0 megapixel camera, high speed Bluetooth connection, USB connection to a PC, high speed GPRS, and EDGA technology. With the W580 you can easily download music, games, and wallpapers to your mobile, and view webpage's and send emails; also you can keep up-to-date with the latest news via the RSS feeds direct to the W580.
Phones2U Direct have a superb deal on offer on Texter 3 offering Vodafone pay monthly SIM card, FREE connection, FREE 3 months insurance, FREE insured delivery, 1 year Sony Ericsson warranty, FREE handset, 750 minutes & 250 texts plus unlimited landline, and much more.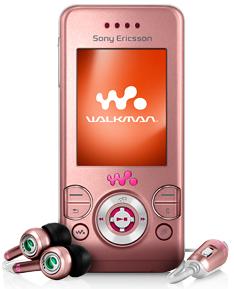 So don't wait, don't let this great offer slip away, get yours now at Phones2U Direct
Subscribe to the Phones Review Newsletter (free) for email updates and news, just enter your email CLICK HERE