Nokia N82 is now official: Specifications and photos
The new unveiling of the Nokia N82 is the most talked about mobile phone at the moment and with only 4 hours left till the countdown stops we thought we would give you the latest official news on specifications. This handset is the latest multimedia computer optimized for photography, internet connectivity and navigation and with stunning tools where you will discover the places and moments worth capturing where you can capture and share them instantaneously; this mobile phone is a great choice for all you photography enthusiasts.
The Nokia N82 features a 5 megapixel camera with Xenon flash and Carl Zeiss optics and with internet connectivity you can share the lovely photos you have just taken. The Nokia N82 is basically a little digital camera plus a multimedia computer. With the Nokia N82 we have reached such a superior level in image quality, speed and ease of use that not only does it outperform any other cameraphone on the market, but it's also a very credible alternative for single purpose digital still cameras," says Satu Ehrnrooth, head of Nokia Nseries Cameras Category, Multimedia. "In addition to the high-end camera, the Nokia N82 also enables you to navigate and discover new places, enjoy your music, browse the web, play games, chat online and be part of the global web 2.0 community wherever you go. Thanks to the wireless broadband connectivity, convergence and yet again increased performance, the Nokia N82 is all you need in your pocket.
The Nokia N82 a very powerful A-GPS and preinstalled with Nokia Maps that will help you locate and explore new places and it does not matter if you just round the corner or in another country, all Nokia N82 mobile phones standard packs comes with free voice guided navigation trial plus you can buy additional features for example city guides and longer subscription to the navigation.
The Nokia N82 gives the best ever camera and navigation experience in one stylish premium device. Just imagine what kind of possibilities this will open up and how much richer your every day life experiences can be! The sophisticated design and glossy looks appeal to men and women who are conscious of their style and want to impress with the latest in technology," Satu Ehrnrooth continues. Photos shown below –
With a 5 megapixel camera, powerful Xenon flash and Carl Zeiss optics, the Nokia N82 delivers remarkably vivid photographs, even in low-light conditions. Fast camera activation, autofocus with a dedicated autofocus assist lamp, fast reloading between shots and DVD-like quality video capture make it a truly convenient and credible tool for capturing and telling your life stories.
More specifications —
– 2GB microSD card
– you can store up to 900 high-resolution photos
– you can store up to 84 minutes of high quality video
– Wi-Fi connectivity
– one-click upload to online communities
– content driven 3D multimedia menu
– convenient orientation sensor that rotates the user interface automatically between horizontal and portrait mode
– Nokia N82 also supports the Ovi family of Nokia internet services, including Nokia Music Store, N-Gage games and Nokia Maps
– WCDMA2100 (HSDPA), EGSM900, GSM850/1800/1900 MHz (EGPRS)
– Automatic switching between bands and modes
– Volume: 90 cc
– Weight: 114 g
– Length (max): 112 mm
– Width (max): 50.2 mm
– Thickness (max): 17.3 mm
– Up to 100MB internal dynamic memory* for messages, ringing tones, images, video clips, calendar notes, to-do list and applications
– Hot swappable microSD memory card slot
* Dynamic memory means that the available memory is shared between dynamic memory functions. When any of these functions is used, there is less available memory for other functions which are also dependent on dynamic memory.
– Battery: Nokia Battery (BP-6MT) 1050mAh
– Talk time: up to 190 min (WCDMA), up to 260 min (GSM)
– Stand-by time: up to 210 hours (WCDMA), up to 225 hours (GSM)
– Still images: up to 290 pictures (with flash)
– Video capture: up to 110 minutes (VGA, 30 fps)
– Video call: up to 120 minutes
– Video playback: up to 200 minutes (VGA, 30 fps)
– Music playback: up to 10 hours (offline mode)
* Operation times may vary depending on radio access technology used, operator network configuration and usage.
– 2.4″ LCD QVGA (240 x 320 pixels) TFT color display with up to 16.7 million colors
– Operating system: S60 software on Symbian OS
– User Interface: S60 3rd edition, Feature Pack 1
– Automatic screen rotation
– Logs: keeps lists of your dialed, received, and missed calls
– Voice dialing (with Speaker independent name dialing (SIND)) and voice commands
– Nokia Push to talk (PoC)
– E-mail (SMTP, IMAP4, POP3), MMS, SMS
– WCDMA HSDPA 2100 MHz with simultaneous voice and packet data (PS max speed DL/UL= 3.6Mbps/384kbps, CS max speed 64kbps)
– Dual Transfer Mode (DTM) support for simultaneous voice and packet data connection in GSM/EDGE networks. Simple class A, multi slot class 11, max speed DL/UL: 177.6/118.4 kbits/s
– EGPRS class B, multi slot class 32, max speed DL/UL= 296 / 177.6 kbits/s
– GPRS class B, multi slot class 32, max speed DL/UL= 107 / 64.2 kbits/s
*Actual achieved speeds may vary depending on network support.
– Up to 5 megapixel (2592 x 1944 pixels) camera, Carl Zeiss Optics: Tessarâ"¢ lens, MPEG-4 VGA video capture of up to 30 fps
– Direct connection to compatible TV via TV-out or wireless LAN/UPnP
– Front camera, CIF (352 x 288 pixels) sensor for video telephony
– Video call and video sharing support (WCDMA network services)
– Integrated xenon flash
– Slideshow from gallery
– One-click upload of photos & videos to web
– Nokia XpressPrint: direct printing via USB (PictBridge), Bluetooth connectivity (BPP), and WLAN (UPnP) or via online printing
– Image resolution: up to 5 megapixels (2592 x 1944 pixels)
– Auto focus
– Amber colored auto focus assist light and recording indicator
– Still image file format: JPEG/EXIF
– Auto exposure – center weighted
– Exposure compensation: +2 ~ -2EV at 0.5 step
– White balance: automatic, sunny, cloudy, incandescent, fluorescent
– Scene: automatic, user, close-up, portrait, landscape, sports, night, night portrait
– Color tone: normal, sepia, black & white, negative, vivid
– Zoom: digital up to 20x (5 megapixel up to 6x)
– Xenon flash
– On-device photo editing
– Video resolutions: up to VGA (640 x 480 pixels) at 30 fps
– Recording indicator
– Audio recording: AAC (AMR for MMS)
– Digital video stabilization
– Video file format .mp4 (default), .3gp (for MMS)
– White balance, scene and color tone setting
– Zoom: Digital up to 10x (VGA up to 4x)
– Front camera: CIF (352 x 288 pixels) sensor for video telephony
– On-device video editing
– Sensor: CMOS, 5 megapixel (2592 x 1944)
– Carl Zeiss Optics: Tessarâ"¢ lens
– F number/Aperture: F2.8
– Focal length 5.6 mm
– Focus range 10 cm ~ infinity
– Macro focus distance 10-50 cm
– Digital music player – supports MP3/AAC/eAAC/eAAC+/WMA/M4A with playlists
– OMA DRM 2.0/1.0 & WMDRM support for music
– Integrated stereo hands-free speaker
– Stereo FM radio (87.5-108MHz) with Visual Radio support
– Nokia Stereo Headset HS-43 in-box
– Bluetooth wireless technology 2.0 with A2DP Stereo audio
– Integrated Assisted Global Positioning System (A-GPS)
– Pre-installed Nokia Maps application and free downloadable maps
The service is available free of charge, although any data transferred over the network will incur charges from your network operator. To check the availability and cost of the service, contact your network operator or service provider.
– Easy-to-use e-mail client with attachment support for images, videos, music and
– Compatible with Nokia Wireless Keyboard SU-8W (sold separately)
– Full web browser support (HTML)
– Play video, music and photos on home media network – compatible TV, stereo and PC over WLAN/UPnP
Java Applications
– Java MIDP 2.0, CLDC 1.1 (Connected Limited Device Configuration (J2ME))
– Over-the-air download of Java-based applications and games
Other Applications
– Personal Information Management (PIM)
– Advanced S60 PIM features including calendar, contacts, to-do list, and PIM printing
– Settings wizard for easy configuration of e-mail, push to talk and video sharing
– Data transfer application for transfer of PIM information from other compatible Nokia
– WLAN wizard
Connectivity
– Integrated WLAN (802.11 b/g) and UPnP
– Bluetooth wireless technology with A2DP stereo audio
– USB 2.0 via Micro USB interface and mass storage class support to support drag and drop
functionality
– 3.5 mm stereo headphone plug (Nokia AV Connector) and TV out support (PAL/NTSC)
– Nokia Nseries PC Suite connectivity with USB, and Bluetooth wireless technology
– Local synchronization of contacts and calendar to a compatible PC using compatible
connection
– Remote over-the-air synchronization
– Send and receive images, video clips, graphics, and business cards via Bluetooth wireless
Video Features
– Video player – supports MPEG4, AVC/H.264, H.264, H.263, RV
– OMA DRM 2.0/1.0 & WMDRM support for video
– Resolution: MPEG4 VGA @ up to 30 fps scaled to QVGA on device or VGA in TV-out mode
– Transfer your videos from compatible PC: Windows Media Player, USB mass-storage file transfer or Nokia Nseries PC Suite using full-speed USB 2.0 connectivity
Video Center
– Pre-configured video services and dynamic expansion with new services
– Video podcasting: find, subscribe, download, view with mobile device
RealPlayer media player
– Full-screen video playback to view downloaded, streamed or recorded video clips
– Supported video formats: MPEG-4, H.264/AVC, H.263/3GPP, RealVideo 8/9/10
The Nokia N82 is now available in key markets and will cost you around pre-tax, unsubsidized sales price of approximately 450 euros.
Nokia N82 Photos –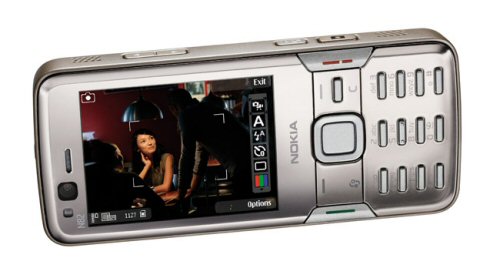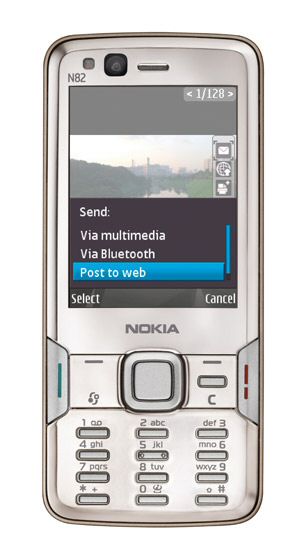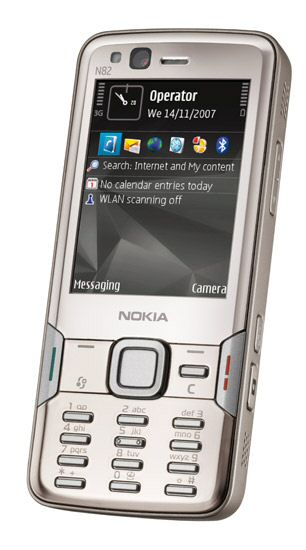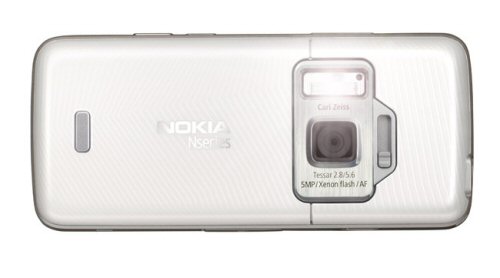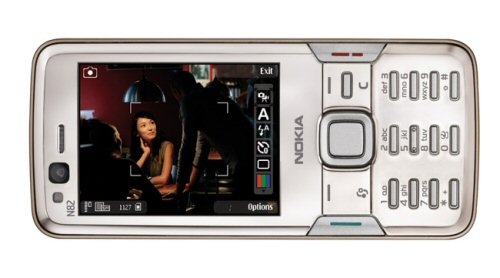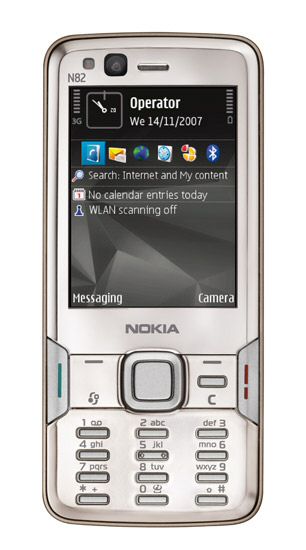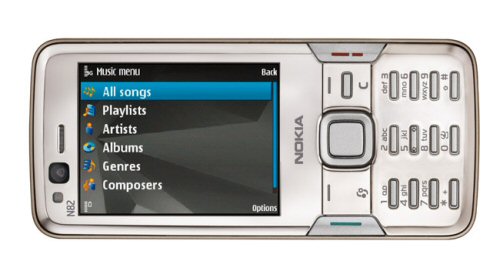 Nokia will host a virtual launch event today, Wednesday, November 14, 2007 beginning at 2pm Finnish time/1pm CET. You can access the virtual launch event at: www.nseries.com/truestories. The webcast will also be available for view on demand afterwards.
Sales package contents may vary by market and/or network operator/service provider. The N-Gage service is expected to go live later this year.
Read — Take a closer look at the Nokia N82