Samsung i760 gets prepped by Verizon: Do you want to know the specs?
It looks like Verizon are prepping the Samsung i760 mobile world phone, oh yes Samsung i760 gets prepped by Verizon, the Samsung i760 seems like it will be EV-DO for the states and GSM elsewhere and we have some specifications for you too look at below.
We will not sit here and bang on about this phone just yet because all we too do is give you some Samsung i760 specifications, so without further ado please check out the specs below.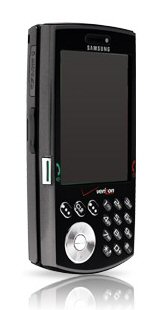 Samsung i760 Specifications —
– Windows Mobile 6 Professional
– Built in Camera and Camcorder
– Bluetooth® Wireless Technology
– Wi-Fi 802.11 b/g
– microSDâ"¢ Memory Card Slot
– CDMA 1900 MHz (PCS), CDMA 800 MHz Band
– EVDO Network & Data
– Windows MobileTM OS
– Windows Explorer Mobile
– 5.29 ounces
– 2.28 x 4.49 x .77 (Inches)
– 2.8 Inch 65K color TFT – 240 x 320 Pixel
– Touch pad & QWERTY keypad
– 1.3 Megapixel Camera plus LED Flash
– Video player
– Video recording plus Video Streaming
– MIDI, WAV, AAC, AAC+, MP3, WMA, ASF Music Player
– MP3 Ringtone
– Embedded Wallpaper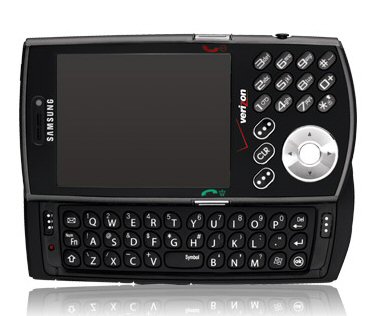 – PDF, MS Word, PowerPoint®, Excel®, JPEG, PNG Document Viewer
– Mobile Printing, Offline Mode, File Explorer plus Voice memo & Voice mail
– SMS, EMS & MMS
– Email
– Bluetooth & USB Connectivity
– WIFI
– Microsoft ActiveSync® 4.5
– 64 MB RAM – 128 MB flash User Memory
– Calendar, Scheduler, To do list, Clock, World time, Alarm, Currency converter, Converter, Calculator & Stop watch
– Speakerphone
– Voice Recognition
– Standard Battery = Up to 3.5 hours talk time & Up to 212 hours standby time
– Long Life Battery = Up to 5 hours talk time & Up to 324 hours standby time
We will keep you posted when this mobile phone comes on the market.
Sign up to the Phones Review Newsletter (free) for updates and news CLICK HERE