Nokia 5310 red Virgin Mobile network mobile phone deal
Here we have the Nokia 5310 XpressMusic mobile, it has a very distinctive design in red, and a sleek aluminium casing which houses delicate control keys for accessing you music, and has an expandable memory thus provides ample storage. The internal audio chip allows you to experience and enjoy hi-fi quality sound, and the Bluetooth compatibility will allow wireless listening when combined with a compatible headset.
The Nokia 5310 weighs only 71 grams, while measuring a sleek 9.9mm thick. The Nokia 5310 XpressMusic isn't just am MP3 music player though, it has an FM radio, a 2 megapixel camera, and the benefits of Nokia's Series 40 operating system.
Now you can pick up the Nokia 5310 XpressMusic from the Carphone Warehouse who are running a sensational deal on the Virgin Mobile Network; offering Virgin Mobile text tariff at £30 – 12 months, 100 minutes and 500 texts per month, 12 months half price rental, FREE handset, FREE one month's insurance, FREE voicemail, and much more.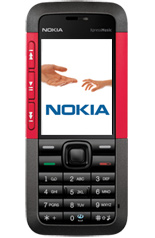 So don't delay, check out this great deal at the Carphone Warehouse.
Subscribe to the Phones Review Newsletter (free) for email updates and news, just enter your email CLICK HERE