BT Freestyle 350 Single Phone with an Answer Machine
Here is the BT Freestyle 350, a single phone complete with answer machine, and comes in silver with contrasting black and will sit neatly in any room. The BT Freestyle 350 is a single DECT cordless phone with some great features such as up to 100 name and number memories, Â up to 10 hours talk-time, up to 100 hours standby time, colour display, and many more.
You can now purchase the Freestyle 350 from Argos for £49.99, and it can be delivered usually in 2 working days, alternatively, you can ring and reserve for store pick up, subject to stock availability.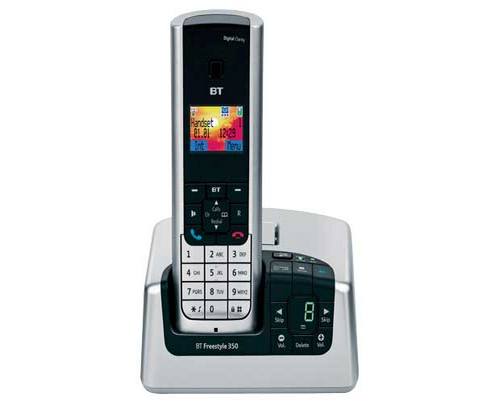 ·         20 last number redial.
·         30 call log.
·         Type II caller ID.
·         14 monophonic and polyphonic ringtones on handset and 5 on base.
·         Ringer volume control on base and handset.
·         Answerphone.
·         Remote access from any tone telephone.
·         Message playback from both base and handset.
·         Up to 15 minutes recording time.
·         Handsfree/speakerphone.
·         SMS text facility.
·         Call timer.
·         4 line colour display.
·         Over 8 wallpapers.
·         Secrecy button.
·         Clock.
·         Keypad lock.
·         Conference call facility.
·         Handset naming facility.
·         Answer only/answer or record.
·         Requires 3 x AAA rechargeable batteries (supplied).
·         Also available with multiple handsets.
For more information and to purchase please click here
Subscribe to the Phones Review Newsletter (free) for email updates and news, just enter your email CLICK HERE