BT Verve 450 DECT phone complete with Answer Machine
Here we have the BT Verve 450 DECT home phone in stunning black with white trim, and comes complete with an answer machine, so you need never miss a call. A handsome stylish phone with many features which include, hands-free speakerphone, up to 10 hours talk-time, up to 100 hours standby time, 200 name and number memories, and many more.
You can purchase the BT Verve 450 DECT phone from Argos for £49.99 and it can be delivered in 2 working days or can be reserved for store collection subject to stock availability.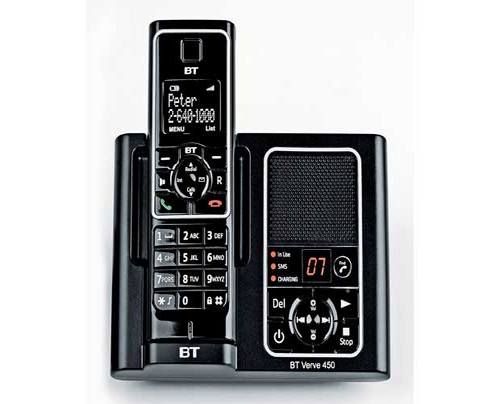 ·         15 last number redial.
·         20 call log.
·         Secrecy button.
·         SMS text facility.
·         10 ringtones – polyphoniSIM card reader.
·         Remote access from any touchtone phone.
·         Alarm.
·         Call transfer.
·         Incoming ring personalisation.
·         Call timer.
·         4 line black/white display.
·         Clock.
·         Call waiting.
·         Keypad lock.
·         Message playback from base and handset.
·         Ringer volume control from base and handset.
·         Message counter.
·         Up to 300 metre outdoor range in ideal conditions.
·         Up to 50 metre indoor range.
·         Caller ID.
·         Black.
·         15 minutes recording time.
·         Requires rechargeable battery (supplied).
·         Also available with multiple handsets.
For further information and to buy please click here
Subscribe to the Phones Review Newsletter (free) for email updates and news, just enter your email CLICK HERE