Mobile virtual secretary on your mobile phone to keep you up to date
Moving with the times into the future it looks as if people will soon be having their daily lives organised by virtual secretaries, these secretaries sit in your phone to remind you of all those important meetings and things that need doing.
The brains behind the Mobile Virtual Secretary is InterGrafix are currently having the virtual secretary being "road tested" by mobile users in China. InterGrafix hopefully want to bring the world of virtual secretary applications to the rest of the world once the "road tests" are complete.
These secretaries will take care of stuff like the welcome and goodbye interface, dynamic wallpapers, SMS and incomings calls and calendar events. Does this sound too good to be true? Hope so because it should make mobile life a little bit easier.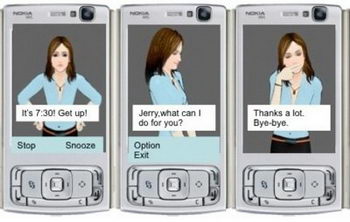 Source — Boy Genius Report
Subscribe to the Phones Review Newsletter (free) for email updates and news, just enter your email CLICK HERE