Nokia Eco Sensor Concept mobile phone monitors body and surroundings
Here is the Nokia Eco Sensor concept mobile phone, but not just an everyday run of the mill phone for it has a suite of sensors which actually monitor your health and your environment. The Eco Sensor works along with a remote sensor unit which is worn either on your write or round your next, and hangs on a strap which is constructed from eco-friendly solar cells.
The Eco Sensor's sensor pack can be personalised to monitor anything from ambient temperature, pollution levels, and even your vital signs; a perfect little tool for keeping tabs on your heart rate too.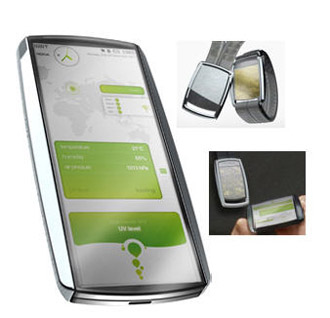 As one would expect the Nokia Eco Sensor concept uses eco-conscious fabrication methods such as bio-material, printed circuits and recycled goods. The eco began with the Nokia 3110 Evolve, so maybe the Eco Sensor takes it to the next level.
Subscribe to the Phones Review Newsletter (free) for email updates and news, just enter your email CLICK HERE