HTC Mogul PPC-6800 Smartphone on Sprint for absolutely nothing: Free amazing deal
Looking for a hot deal? Want a free HTC Mogul PPC-6800 Smartphone on Sprint? Well sit back and let us tell you all about this amazing deal that will get your head in a spin.
There are hot deals and then there are HOT DEALS, this stunning deal comes from Amazon and they are offering an HTC Mogul on the Sprint's network for an amazingly low price of only FREE (After rebates of course).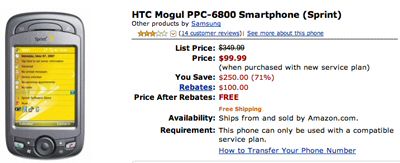 This is how it works, List Price: $349.99, Price: $99.99, (when purchased with new service plan) You Save: $250.00 (71%) Rebates: $100.00, so therefore Price After Rebates: FREE.
This deal will mean that you have to sign up to a 2 year deal with Sprint, what you waiting for, go get the phone then sell it (Make some money LOL).
Get this amazing FREE deal here — Stocks will not last so hurry.