Nokia 5610 XpressMusic for free on all 18 month tariffs at O2
Here we have the new sexy looking Nokia 5610 XpressMusic, a gorgeous slider phone complete with 3.2 megapixel camera which had an 8x digital zoom, a dedicated audio chip for the multi-format music player, and 3G technology for visual calls to your friends and family. The Nokia 5610 XpressMusic measures 98.5 x 48.5 x 17mm and weighs 111 grams, with a 16.7m screen, Bluetooth, Tri-band, and FM radio.
O2 are doing an offer on the Nokia 5610 XpressMusic mobile where you get the handset for FREE on all 18 month tariffs, you even get to keep your mobile number as well. You can pick up the Nokia 5610 XpressMusic form in store or take advantage of O2's free standard delivery.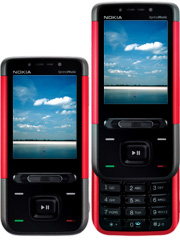 For further information or to purchase the Nokia 5610 XpressMusic phone please visit O2
Subscribe to the Phones Review Newsletter (free) for email updates and news, just enter your email CLICK HERE