Samsungs t819 3G slider for T-Mobile, more detail for you.
Question, does a mobile phone have to go back through the FCC when it changed colour?Answer, probably not, as for one there are loads of phones out there that have interchangeable coloured covers right!
Anyhow, T-mobile has had a change of mind about the colour of their next 3G handset which is the Samsung t819 slider phone, changing it from medium blue to coffee brown. Somewhat odd though because colour formulations almost certainly affect SAR ratings. Anyway, the point is there is now a little more detail available on the Samsung t819 slider available. Along with the colour change, T-Mobile want to start shifting the t819 sometime in January and by then maybe they will actually agree that their 3G phones are actually 3G…who knows?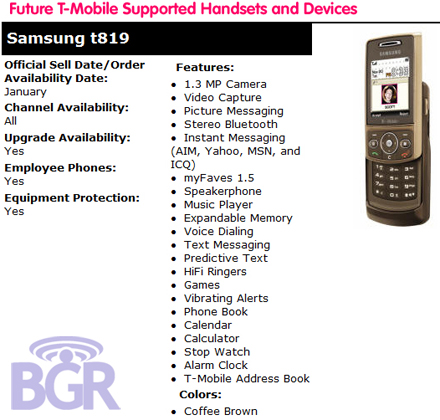 Source — Boy Genius Report
Subscribe to the Phones Review Newsletter (free) for email updates and news, just enter your email CLICK HERE