Samsung X830 Pink mobile with free Sony Playstation3 40GB
The Samsung X830 known as Samsung's "Mini MP3 Phone" is the latest music mobile with MP3 player design. In fashionable pink for the ladies the X830 is a swing style phone dedicated to the lovers of music. When closed the X830 behaves like an MP3 player with horizontal display of your playlist along with song information and equaliser settings.
Swing the X830 open to reveal the keypad and lengthen the mobile to double its size for optimal usability; closed measurements are 84 x 30 x 20mm with a weight of 72.5 grams. Constructed for the musical orientated the Samsung X830 Pink mini MP3 will keep you 'rockin n rollin'.
The Link has the Samsung X830 available on several great tariffs with each one offering a superb free gift, one of which is — Orange — Panther – £45 — 18 months, 900 minutes and 3000 texts per month, FREE Samsung X830 Pink handset, and a FREE Sony Playstation 3 40GB, a perfect gift at Christmas time.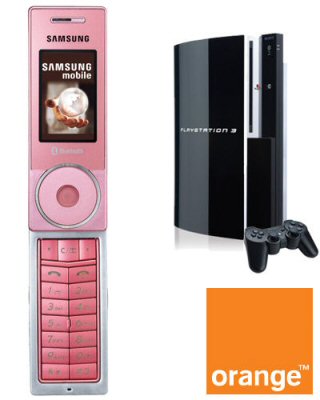 To view further excellent tariffs or to purchase the Samsung X830 with free Playstation 3 please visit The Link
Subscribe to the Phones Review Newsletter (free) for email updates and news, just enter your email CLICK HERE