The Samsung E900 with XBox 360 Premium Console & Ghost Recon: Advanced Warfighter 2 Game
The stunning Samsung E900 is a slider type phone with a minimalist look, and measures 93 x 45 x 16.5mm with a weight of 93 grams. Slide the E900 open and you will see the keypad of flush buttons. You will find the Samsung E900 is equipped with a 2 megapixel camera so you can snap those much sort after photos, and it even has an integrated flash with a 4x zoom. And for the music lovers the Samsung E900 also has an MP3 player.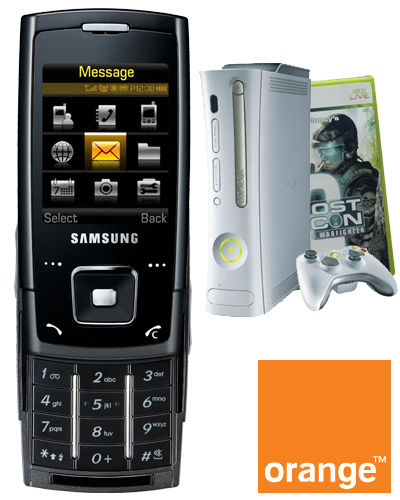 You can get the Samsung E900 from The Link who has it on the Orange network with several tariffs, of which the best is — Canary – £40 — 18 months, 850 minutes and 300 texts per month, FREE Samsung E900 handset, and XBox 360 Premium 2 and GRAW 2 game.
· WAP
· Tri-band
· GSM
· GPRS
· EDGE
· Polyphonic
· MicroSD
Purchase the Samsung E900 from The Link and receive FREE next-day delivery.
Or further information concerning this offer or to purchase please visit The Link
Subscribe to the Phones Review Newsletter (free) for email updates and news, just enter your email CLICK HERE