Wiimote for your mobile phone from Zeetoo
Well really the Zeetoo Zeemote has been out there for a while, but it has now gained its leg as reportedly Zeetoo has secured funding to the tune of $6.9 million from Commonwealth Ventures, Egan Capital, and Nauta which apparently will be assigned to further commercialize and develop a wireless joystick for mobile phones.
The Zeemote will more than likely communicate via Bluetooth t make the gaming experience slightly more palatable, but will most actually clutter up their limited pocket space with one of these? Who knows, but maybe we will soon find out.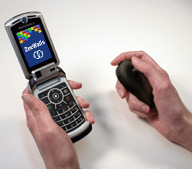 Source — Joystiq
Subscribe to the Phones Review Newsletter (free) for email updates and news, just enter your email CLICK HERE