LG Rumor not pulled but victim of own success says Sprint
The LG entry level Rumor QWERTI mobile, the one reportedly to be suffering from data erasure problems, hasn't been pulled as first reported, but has instead become a victim of its own success.
According to Sprint low inventory levels has kept the Rumor away from retailers, however the carrier is working towards getting better production to be able to get the Rumor back out there.Sprint also claim that the data erasure problems only hit a limited number of handsets and can be rectified with a fix which is already available. So if you are one of those who are desperate to own a Rumor keep a watchful eye on your local store.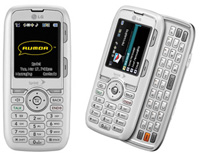 Source — phonescoop
Subscribe to the Phones Review Newsletter (free) for email updates and news, just enter your email CLICK HERE