Review of the Communicator C100 Speakerphone from Polycom
So you don't want to look like a call center operator when using Skype, no problem because Polycom has come up with an answer they believe will fit the bill, it's their Communicator C100, a speakerphone package which can be used with any VoIP package and your PC.
The Communicator C100 connects to your PC via USB and will sit virtually anywhere on your desk and allows hands-free use with no wires. It's a small and compact design with built-in USB cable holder in the stand to hide it away. The use of USB means there is no other power plug needed to clutter up your desk.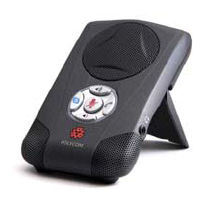 The Polycom Communicator C100 centers on a three audio speaker system on the main console and allows you to launch VoIP use the volume control, answer and hang up; it also has a large mute button for secrecy speaking to other in the room, or you can simply use the built-in headphones port.
When connected to your computer you just have to tell your VoIP you wish to use it and off you go, if you use Skype this is done via the preferences panel under audio. The C100's speaker promises crystal clear conversation, and during tests it lived up to this expectation. The communicator C100 can also support group conversations with up to four participants taking part.
Source — Pocket-lint
Subscribe to the Phones Review Newsletter (free) for email updates and news, just enter your email CLICK HERE