Review of the Philips Voip080 Internet Phone
We all know that you can now make phone calls via Skype using a PC, but people still like to use a more traditional style phone handset. So here is the Philips Voip080 and although not really groundbreaking stuff it feels comfortable in the hand; there is also a supplied standard which is somewhat on the flimsy side.
Although the Voip080 looks as if its wireless you will find connection to a PC via a USB cable, the USB cable wraps round the body of the phone so it is eay to use with a notebook when travelling.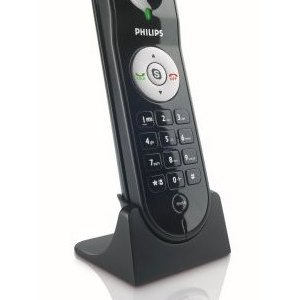 Being a dual format phone you can Skype it as well as make standard phone calls and easily switches between the two via a button. Its menu is easy to master and highlights the contacts of Skype and landline alike. Clear Voice technology is the main selling point of the Philips Voip080 because the technology brings you better reception over the internet. In tests it was found to work extremely well with the software being easy to setup and when your Skype account is located it works just how you want it.
Source — Pocket-lint
Subscribe to the Phones Review Newsletter (free) for email updates and news, just enter your email CLICK HERE