Mandarina Duck mobile phone in violet and on Virgin Mobile
Bringing you a contemporary style we have the Mandarina Duck mobile phone, a flip phone in a stylish range of bold colours such as Violet, Cherry red and Green and all with a rubberized casing. Combining mobile calls with music the Mandarina Duck has an MP3 player for music lovers and a 2.0 megapixel camera for those that love to capture images.
Other features of the Mandarina Duck are Bluetooth connectivity. 65k colour screen, dual-band, and many more, and the dimensions are 89 x 45 x 22mm with a weight of 83.1 grams.
The Mandarina Duck is available from the Carphone Warehouse on offer with Virgin Mobile network with a tariff of Virgin Mobile Text – £30 — 12 months, 100 minutes and 500 texts per month, 13 month's half price line rental, FREE one month's insurance, FREE Voicemail, and a FREE Mandarina Duck handset in Violet.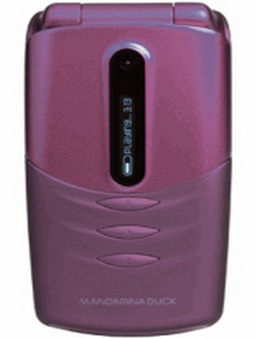 WAP
Dual-band
Bluetooth
Faster data with GPRS
Colour screen
Music player
Camera phone
Vibrating alert
Polyphonic ringtones
Picture messaging
Speakerphone
To view more on the Mandarina range or to purchase please visit the Carphone Warehouse.
Subscribe to the Phones Review Newsletter (free) for email updates and news, just enter your email CLICK HERE