Samsung U700 phone with Free E250 Pink from Vodafone
Here we have the U700 mobile phone from Samsung in sexy silver with a slide configuration with a 3.2 megapixel camera, video messaging, changeable covers, FM radio, MP3 player, and Bluetooth. The Samsung U700 measures 103.5 x 49.3 x 10.9mm.
The Samsung U700 is available at Vodafone on several tariffs, one being £30 per month with £15 for the first 3 months, 300 anytime minutes and 500 inclusive text per month, a FREE Samsung U700 handset and a FREE E250 Pink handset.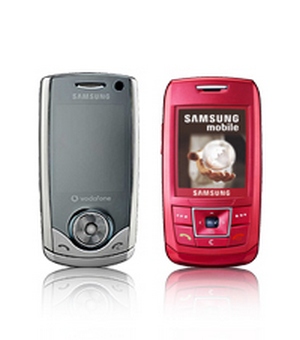 ·         Tri-band
·         GPRS
·         Email
·         Games
·         Polyphonic
·         Memory slot
If you wish to view more great tariffs on the Samsung U700 please visit Vodafone
Subscribe to the Phones Review Newsletter (free) for email updates and news, just enter your email CLICK HERE