Supa GT1000 GPS Super tracking phone: Geo Fence & SOS buttons
Supa the Taiwanese firm are showing off their new GT1000 GPS Super tracking phone which has features that are pretty damn cool when you think about it. Supa showed off this new device which is basically in simple terms a mobile phone with GPS and GPS data logging capabilities.
Some of the main features on the Supa GT1000 GPS tracking phone include quad-band GSM / GPRS, storage for up to 1440 way points, SiRFstarIII chipset, and what we love more than anything is the Geo Fence and SOS buttons.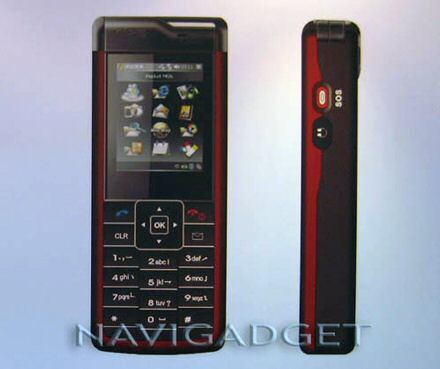 Geo Fence with alarms which are sent via SMS if the fence is breached, there is also upgradeable storage via T-Flash, other features on this new phone include —
– MP3 Player which is optional
– GSM/GPRS Quad-band 850/900/1800/1900 MHz
– Integrated T-Flash slot
– One way communication Software Feature
– Cyclic history logging
– Limit or unlimit incoming call (programmable)
– Limit or unlimit dialing (programmable)
– 1.8 Inch 65k color, 128 x 160 resolution display
– 108 X 45 X 18.5 mm
Get Phones Review delivered by email for news updates — Get our newsletter