Sony Ericsson W960i phone Free at Vodafone on 18 month contract
Here is the stunning W960i from Sony Ericsson a black 3G mobile phone weighing 119 grams and measures 109 x 55 x 16mm. The Sony Ericsson W960i is a flip phone with a 3.0 megapixel camera, FM radio, and MP3 player, Bluetooth, tri-band, infrared, and GPRS.
The Sony Ericsson W960i is available from Vodafone on several tariffs, one of which is, £35.00 a month with the first 3 months at £17.50, 500 anytime minutes and 500inclusive texts per month, and a FREE Sony Ericsson W960i handset.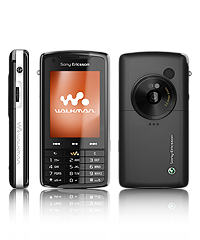 To view more superb tariffs on the Sony Ericsson W960i please visit Vodafone
Subscribe to the Phones Review Newsletter (free) for email updates and news, just enter your email CLICK HERE