Nokia 6110 Navigator phone in white with free IPod Nano 8GB offer
With the Nokia 6110 Navigator the concept is quite simple, take it out of the box and immediately you can use the full satellite navigation system, even without the SIM card being place in because the navigation system is actually stored on the mobile phone itself.
Along with a superb navigation system the Nokia 6110 Navigator offers you a 2 megapixel camera with video recording and flash, FM radio, TFT colour display screen, HSDPA with GPS along with onboard route planning and maps.
You can get hold of the Nokia 6110 Navigator from The Link who offer some superb deal, one being with Vodafone on a tariff of Anytime — £50 — 18 months, 1200 minutes and 3000 texts, FREE Nokia 6110 Navigator handset in white, and a FREE 8GB iPod Nano.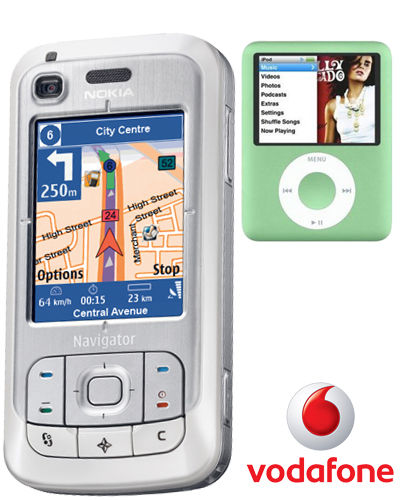 ·         Dimensions: 110 x 49 x 20mm
·         Weight: 125 grams including battery
·         Display: 2.2 inch QVGA
·         Flash: 4x Digital
·         Quad-Band
·         WAP: 2.0
Receive free next day delivery when you purchase the Nokia 6110 Navigator mobile phone.
For further information on this superb offer on the Nokia 6110 Navigator and other great deals please visit The Link.
Subscribe to the Phones Review Newsletter (free) for email updates and news, just enter your email CLICK HERE