Sony Ericsson K810i with free 7 inch digital photo frame
Here is the K810i mobile phone from Sony Ericsson a distinctively designed mobile which has been branded as the "Cyber-shot" giving you the great photography features and settings once only found with professional digital cameras. The superb Sony Ericsson K810i has a fantastic 3.2 megapixel camera with auto-focus and a Xenon flash including red eye reduction.
The K810i's BestPic feature allows you to take a sequence of 9 images with a simple press of a button, and anti-blur tech compensates for any hand shake or movement, and there's on-screen image editing and image blogging too. You will also find the K810i has 3G, a web browser, an FM radio, expandable memory and Bluetooth connectivity.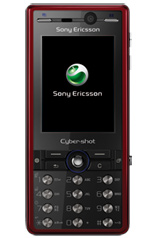 The Sony Ericsson K810i is available from the Carphone Warehouse, who has it on the O2 network with a superb tariff of O2 – £30 — 18 months, 400 minutes and 500 texts per month, 100KB inclusive internet browsing, FREE one month's insurance, FREE Sony Ericsson K810i handset in red, and a FREE LCD Digital photo frame.
Bluetooth
Faster data with GPRS
Works in USA (Tri-band)
WAP
Music player
Camera phone
Colour screen
FM Radio
Polyphonic ringtones
3G
Picture messaging
Vibrating alert
Voice dialling
Speakerphone
Should you wish to view further information or to purchase Sony Ericsson K810i the please visit the Carphone Warehouse
Subscribe to the Phones Review Newsletter (free) for email updates and news, just enter your email CLICK HERE