Levis mobile phone in black at the Carphone Warehouse
Here we have a mobile phone that has been exclusively created for the world's best known denim designer brand Levis®, and it is customisable in excess of 500 ways. This superb mobile phone has a 100% stainless steel case with a patterned finish, and available in a range of attractive colours.
The Levis® mobile phone has some superb features installed such as a multimedia player, a 2 megapixel camera, 40MB of memory, expandable microSD, and Bluetooth stereo. This great mobile also comes with a detachable chain so you can secure it to your jeans as with a famous brand name like Levis® you'll definitely want to keep it secure.
The Levis® mobile phone is available from the Carphone Warehouse on the Orange network with a tariff of Dolphin – £35 — 18 months, 500 minutes and unlimited texts per month, 12 months half price line rental, Orange Wednesdays, FREE one month's insurance, and a FREE Levis handset in black.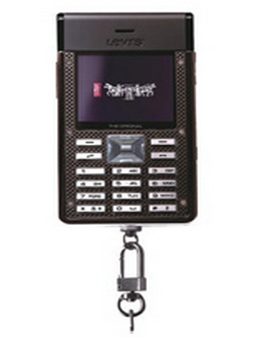 Bluetooth
Faster data with GPRS
Works in USA (Tri-band)
WAP
FM Radio
Camera phone
Music player
Colour screen
Speakerphone
Picture messaging
Polyphonic ringtones
Vibrating alert
Should you wish to view further information or to purchase Levis® mobile phone the please visit the Carphone Warehouse
Subscribe to the Phones Review Newsletter (free) for email updates and news, just enter your email CLICK HERE