The Samsung Armani designer mobile phone at Carphone warehouse
Here for your indulgence we have the Samsung Armani designer mobile phone, a sensational designer handset designed by Giorgio Armani. The Samsung Armani is a stunning silver and black model with a large 2.6 inch touch-screen display with high resolution and superb touch-screen controls. The Samsung Armani measures 87.5 x 54.5 x 10.5mm and is tri-band with a display size of 240 x 320 pixels.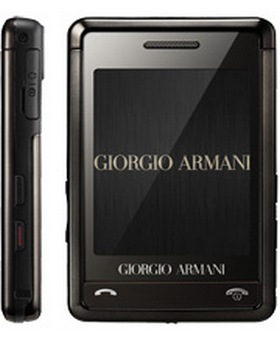 You can acquire the superb Samsung Armani mobile phone from the Carphone Warehouse on the Orange network with a tariff of Racoon – £35 — 18 months, 700 minutes and 100 texts per month plus unlimited minutes (off peak to landlines) FREE one month's insurance, Magic number, and a FREE Samsung Armani handset.
Works in USA (Tri-band)
Bluetooth
Music player
Camera phone
WAP
Faster data with GPRS
Polyphonic ringtones
Colour screen
Picture messaging
Vibrating alert
To view further information or to purchase the Samsung Armani please visit the Carphone Warehouse
Subscribe to the Phones Review Newsletter (free) for email updates and news, just enter your email CLICK HERE