Motorola RIZR Z3 with offer of free PSP Slim + Lite
The Motorola RIZR Z3 is a sleek slider design mobile phone which is uniquely crafted with vivid colour screen enhanced music features a global connectivity all encased in a sleek thin and narrow stylish housing. The Motorola RIZR Z3 has a 2.0 megapixel camera with 4x Digital zoom, MP3 player, and measures 106 x 46 x 16mm with a weight of 115 grams.
The Link has the Motorola RIZR Z3 on offer on the T-Mobile Network with several tariffs one of which is FLEXT – £35 — 18 months, 900 minutes and 1800 texts per month, a FREE Motorola RIZR Z3 handset, and a FREE PSP slim + Lite with 2 games.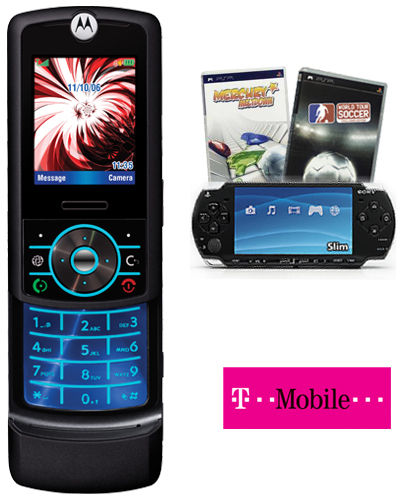 . WAP 2.0
. Quad-band
. MicroSD
. Voice Dialling
. Ringtones: Polyphonic & MP3
Receive free next day delivery when you purchase the Motorola RIZR Z3 mobile phone.
For further information on this superb offer on the Motorola RIZR Z3 and other great deals please visit The Link.
Subscribe to the Phones Review Newsletter (free) for email updates and news, just enter your email CLICK HERE