Blackberry now connect with Facebook social network
My, my there is a lot of it going about, seems BlackBerry have struck a deal with social networking website Facebook to have their program on its devices. Don't know much about the details on this one, but here's a list of what Facebook for BlackBerry has to offer…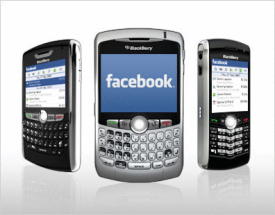 Full text of new messages or friend requests, wall posts, new photo tags and who's poking you. You status and friends status, along with all your friends.
Home screen notifications, photo sharing direct from your BlackBerry smartphone camera, one click tag your friends, the Facebook experience optimised and integrated with your Blackberry smartphone.
Ok so this BlackBerry/Facebook linkup isn't the first, maybe four platforms so far, but I'm putting my money on there's going to be more of them.
Source — intomobile