Samsung X830 pink phone with free Sony PS3 40 GB on Orange network
Check this out, a mobile phone with a free gift. This amazing deal is something not to be missed, you will get the Samsung X830 pink 'Mini MP3 Phone' for free plus you will get a free Sony PS3 40GB games console for free.
The deal is on the PANTHER 45 18 MONTHS contract with Orange with a monthly fee of £45.00.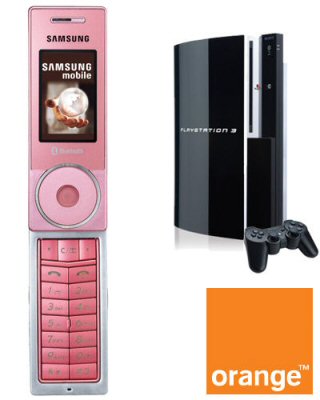 So a free Samsung X830 pink and a free Sony Playstation 3 40GB, the X830 pink is a cool mini music phone that comes with an innovative MP3 player design, the unique design shows of the swing-open form factor and the MP3 player function.
When the mobile phone is closed the Samsung X830 functions like a MP3 player with an interface that horizontally displays the playlist, equalizer settings and song information. Swinging the phone open exposes the keypad and doubles its length for optimal mobile usability. The Samsung X830 Mini MP3 Phone will suit mobile users who prefer portability and an exceptional, trendy design.
So come on if you want a FREE Samsung X830 pink mobile phone and a FREE Sony PS3 40 GB the please visit THE LINK.