BlackBerry Pearl Platinum & Nightfire unveiled by GoldStriker: Releases Valentines Day
Now we like phones that are different, and do not mind spending a little bit more for a good phone, but this one is to expensive.
The people behind GoldStriker have struck again and this time they have got together with a German designer called Sascha Hildebrandt to make the BlackBerry Pearl something special.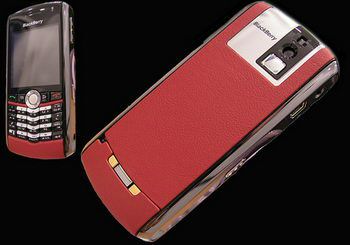 Well the new BlackBerry Pearl is now the BlackBerry Pearl Platinum & Nightfire oh yes nice shiny platinum accents and stunning red leather, these new editions will cost you a staggering $1,600 which will start selling on February 14th (Oh yes Valentines Day).