AT&T is said to be launching Broadcast Mobile TV quite soon
AT&T is apparently going to launch its MediaFLO based broadcast Mobile TV quite soon in the USA, as soon as in a few weeks. This Broadcast Mobile TV is expected to have 8 linear 24 hour channels along with two exclusive channels, the eight core channels will be, Fox Mobile, MTV, CBS Mobile, NBC 2Go, NBC News 2Go, Comedy Central, Nickelodeon, and ESPN Mobile TV.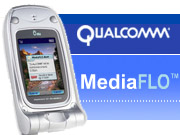 Apparently, personalised, real-time data will be pushed to users via their handsets, so what does that mean? Well possibly stuff like links to websites, and program info perhaps. Anyway, the first handset to get this service is apparently the LG Vu, otherwise known as the CU920.
As always it's all about the quality of the content and just how well its delivered. So when we know more we'll let you know.
Source — gamdala