RIM BlackBerry 8110 Pearl mobile on its way to Rogers Wireless with GPS perhaps
This one is for the Canadians, and they may have cause for celebration shortly because whispers say the RIM BlackBerry 8110 Pearl may be on its way to the Rogers Wireless network in the near future. The BlackBerry 8110 Pearl is the GSM counterpart of the CDMA BlackBerry 8130 Pearl while the 8110 Pearl will feature an integrated GPS receiver.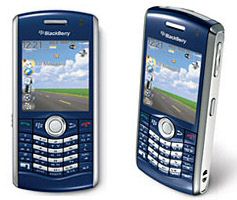 The improved 8110 may have a mircoSD slot, 3.5mm headphone jack, revised keypad, along with the mentioned GPS receiver which is now an expected part of latest BlackBerry Pearls. The colour of choice for the BlackBerry 8110 Pearl for the Rogers Wireless network is apparently Dark blue, and very nice it looks too; although bear in mind  the $249.99 price depends on data plan and 3 year contract.
Source — BiztooBelt