BT Synergy 4100 Twin cordless home phone
This is the stylish Synergy 4100 from BT, a two cordless handset home phone set in black with a bright blue backlit display. Now there is no need to rush to answer your phone if you are in another room as you can have a second phone anywhere in your house.
The BT Synergy 4100 twin home phone set has some excellent helpful features such as 300 metres outdoor and 50 metres indoor range, 3-way conferencing, SIM card reader/writer, up to 100 hours standby time and 10 hours talk-time, caller display, and 255 mane and numbers phonebook.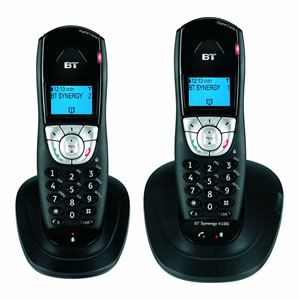 The BT Synergy 4100 Twin Cordless home phone with answer machine is available at the BT Online Store.