Samsung U600 mobile phone in Pink for Valentine's Day
Yep, if you are looking for the perfect Valentine's Day gift you need the Samsung U600 in romantic pink. Apart from being the perfect Valentine's colour the Samsung U600 handset is a slim 11mm thick slider mobile phone with a 3.2 megapixel camera with flash, built-in 60MB of storage and expandable via extensions slot.
The Samsung U600 also has a music player, Bluetooth, email, and a document viewer. Getting to the looks of the Samsung U600, it has been designed to attract with a large screen which dominates the front while multimedia keys allow you to access all the functions.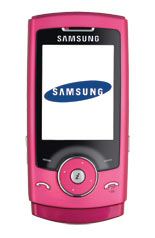 Get hold of the Samsung U600 in Pink for Valentine's Day from the Carphone Warehouse who has it on Orange with a tariff of  – Dolphin – £35 — 18 months, 500 minutes and unlimited texts per month, Orange Wednesdays, FREE one month's insurance, and a FREE Samsung U600 handset in romantic pink.
Bluetooth
Faster data with GPRS
WAP
Camera phone
Music player
Vibrating alert
Colour screen
Polyphonic ringtones
World phone (Quad-band)
Picture messaging
Speakerphone
To view further information or to purchase the Samsung U600 please visit the Carphone Warehouse