Apple iPhone can survive a harsh beating: The phone lives on
We all know that there has been some vigorous testing when it comes to the Apple iPhone like for example the iPhone being put in a blender (Watch Here). The Apple iPhone seems to love destruction, so stuff it give it more.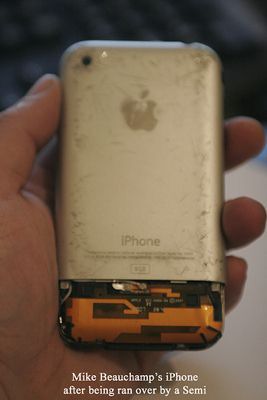 Mike Beauchamp's iPhone was subjected to one hour on the highway (Motorway) and yet it survived, the device was left on the trunk and when he drove off from a gas station it fell off and as he went to go and get it a semi truck run over it (oops).
The amazing thing is, he thought that there was no way the iPhone would survive that much weight, but in fact the iPhone still functioned ok. He could still receive calls, ok there are a few bits missing of the phone and there are a few broken pixels but the touch sensitivity is still working.
Update — I got my Apple iPhone yesterday and will be testing it out over the next few weeks with full hands on reviews plus I will be taking pictures of the iPhone as well, nothing better than the personal touch my fellow readers, so keep coming back as I will be giving you multiple reviews on the good and the bad if need be. Sign up to the Phones Review newsletter below for updated news.
Source — Engadget — check out more images here