Readius e-ink phone from Polymer Vision coming mid 2008 in Italy
The picture of the Polymer Vision e-ink phone looks awesome, but what is better it is coming to life mid 2008 but the only downside is Italy is getting it and we are not (Yet). So it seemed pretty clear back in December 2007 that Polymer Vision was not going to give us the timetable for production versions of the 3G equipped phone.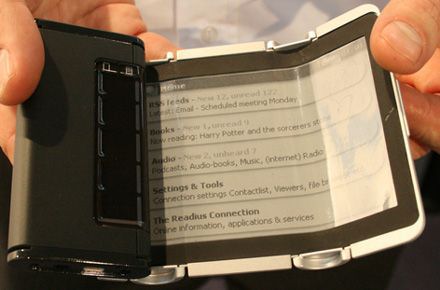 Well the latest news is that the e-ink wonder phone also known as the Readius is that they have at last got a commercial version of this e-book reader phone and will be available as said sometime in the middle of 2008.
It will be released in Italy via Telecom Italia, if everything runs smoothly that is. Just a re-cap of the phone, it features a foldable grayscale 5 inch QVGA display, HSDPA, 400MHz ARM CPU and get this, and the battery life will last up to 6 hours longer than conventional phones.
If you are reading this Polymer Vision, please send us here at Phones Review one of these phones and we will give it a full on review which our readers will love.