Apple iPhone Drive v1.4: Drive software update free and live
If you love the Apple iPhone software from Ecamm then you will definitely love the latest news, Ecamm have just released a free update for all registered owners for the iPhone Drive software. This means you get to boost up the iPhone Drive to v1.4 with a few new features.
Let me explain to those who do not know, the Apple iPhone Drive will turn you iPhone into a data-storage solution that is portable. You will get a full read-write access to the handsets storage space which in return allows you to take any files you need with you on the road.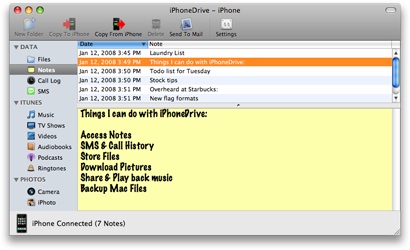 You must all know that the iPhone Drive will not turn your iPhone into a USB drive and that you do need the iPhone Drive installed on your computer to read the stored data, this is still the next best solution though.
The new iPhone Drive v1.4 will allow you to play music which is stored on your iPhone straight from the iPhone Drive utility. Iphone Drive 1.4 is totally free for registered users but will cost $19.95 for new customers, download it here.