Eten Glofiish M810 and V900 mobile phones, more info from the teasers
Eten why on earth do you tease us? Come on admit it you love it? Anyway we have some great news from the teasers, yes we mean Eten. The information is about the Eten Glofiish V900 and the Eten Glofiish M810. The V900 will have superb onboard digital TV tuner and the M810 will feature the latest feature-rich PocketPC offered by the company.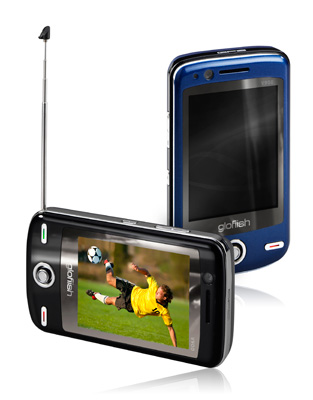 Let us start with the Eten Glofiish M810 which is the successor of the Eten M800, this cool phone will have pretty impressive features such as hardware QWERTY keyboard, 2 megapixel autofocus camera, Wi-Fi, HSDPA, GPS and a VGA display, no word on what resolution though.
Now we move swiftly onto the Eten Glofiish V900 which is pictured above, this handset will feature mobile TV with support for DVB-T, DVB-H, TDMB and DAB broadcasting standards which is great for movies and sports. The V900 will also sport VGA resolution display, GPS, HSDPA and Wi-Fi plus a brand new Eten touch-based user interface.
The is no word on price or availability on the Eten Glofiish M810 as of yet, but the word is that the Eten Glofiish V900 will be launched sometime in the 2nd half of 2008, the V900 however will be shown off at the Mobile world congress 2008 held this February in Barcelona.
Source – Full Press Release